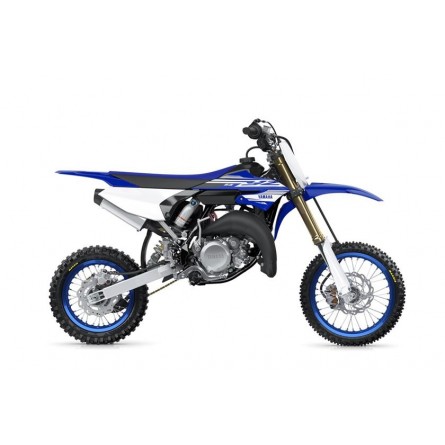 Yamaha | Crossmotor YZ65 2019
De langverwachte nieuwe YZ65 is onthuld!
De YZ65 is een van de meest opwindende en technologisch geavanceerde motor voor jongeren sinds jaren. Met een geheel nieuwe motor en chassis, en dankzij de YZ450F-geïnspireerde styling, bevestigt de YZ65 Yamaha's totale toewijding aan de motorcrosscross voor jongeren - het startpunt voor toekomstige kampioenen!
Uitgerust met het YPVS-systeem van Yamaha, biedt deze pittige tweetakt een hoop gebruiksvriendelijk koppel. En de rijeigenschappen zijn voorspelbaar en verzekerd dankzij het beproefde chassisontwerp en de toonaangevende KYB-ophanging.
Vanaf mei in de winkel!
Verkoopprijs € 4599, - . De verkoopprijs is inclusief € 300 voor onvermijdbare kosten.
Motor
Motor Type

65cc watergekoeld 2-takt; reeed-valve inducted

Bore x Stroke

43.5mm x 43.6mm

Compression Ratio

8.1~9.1:1

Fuel Delivery

Keihin® PWK28 carburetor

Transmission

6-speed; multiplate wet clutch




Chassis
Suspension / Front
36mm KYB® coil spring, adjustable compression and rebound damping; 8.5-in travel
Suspension / Rear
Single shock, adjustable compression and rebound damping; 10.6-in travel
Brakes / Front
198mm hydraulic disc
Brakes / Rear
190mm hydraulic disc
Tires / Front
60/100-14 Maxxis® Maxxcross SI®
Tires / Rear
80/100-12 Maxxis® Maxxcross SI®




Maten
L x W x H
63.5 in x 30.0 in x 39.5 in
Maximum Ground Clearance
10.5 in
Weight Without Fuel
128 lb Calculated weight without fuel




Specificaties
All-New 65cc Motocrosser:

Built from the ground up for 2018, the all-new YZ65 is ready to tackle the track with winning performance right out of the gate. And, of course, the all-new YZ65 features Yamaha's renowned competition off-road quality and durability just like the bigger YZs.
New Engine:

The all-new 65cc two-stroke engine features Yamaha's legendary YPVS, mechanical power valve system for a broad spread of power and torque across the entire RPM range.
New Chassis:

With a new steel frame and adjustable front and rear suspension, the YZ65 offers riders the traction confidence and tunability of full-size motocross machines in a compact package.
Motor
All-New Two-Stroke Engine: The 65cc two-stroke powerplant is all new for the 2018 YZ65, and features the same advanced technologies found in Yamaha's race-winning YZ125 and YZ250 motocrossers.
Race-Developed Intake: Proven reed-valve induction improves acceleration and throttle response across the entire powerband, with a carefully tuned Keihin® PWK28 carburetor to meter fuel flow.
Yamaha Power Valve System: Patented YPVS™ combines crisp bottom-end torque with potent midrange and free-revving top-end, making the most of the compact engine and lightweight chassis.
Close-Ratio Transmission: Six-speed, close-ratio transmission optimizes gear ratios for maximum performance, giving riders the right gear for every race condition.
Digital Ignition: Digital CDI system delivers precise spark and monitors engine speed to ensure optimal timing for excellent response.
Efficient Cooling System: Compact radiator features optimized hose routing to deliver maximum cooling efficiency even in the toughest racing conditions.
Chassis
Compact Steel Frame: The YZ65 offers light, neutral handling built on an all-new steel cradle frame. Designed around the rigidity balance required for the 65cc class, this new frame delivers excellent grip feeling even across bumpy track surfaces, jump landings and whoop sections.
Lightweight Subframe: Removable aluminum rear subframe is constructed of square-section tubing for reduced weight and convenient maintenance, just like on the full-size motocross bikes.
All-New Suspension Systems: Up front, a 36mm KYB® coil spring fork offers unmatched compliance with settings based on Yamaha's extensive testing experience. Out back, a new link-less shock design is light and compact to suit the needs of 65cc-class riders, and controls a new swingarm with YZ125-style chain adjusters. Both front and rear suspension systems are tunable for both rebound and compression damping.
Dual Wave-Type Disc Brakes: Wave-style brake rotors are lighter than conventional rotors and have that full size YZ family style.
Maxxis® Tires: Maxxcross SI® tires offer good grip across of a variety of track conditions, utilizing 60/100-14 front and 80/100-12 rear tire sizes.


Overig
Adjustable Ergonomics: The YZ65 is highly tunable to fit riders of various sizes, with a 4-position adjustable aluminum taper handlebar clamp, adjustable position clutch and front brake levers, grippy foot pegs, and long seat design to help riders move across the bike.
Aggressive YZ Family Styling: The YZ65 may be the smallest member of the family, but it packs in the same aggressive styling as the larger YZ and YZ-F siblings, even down to the slick blue Excel® wheels.
#yamaha #revsyourheart # yz65 #victorYZone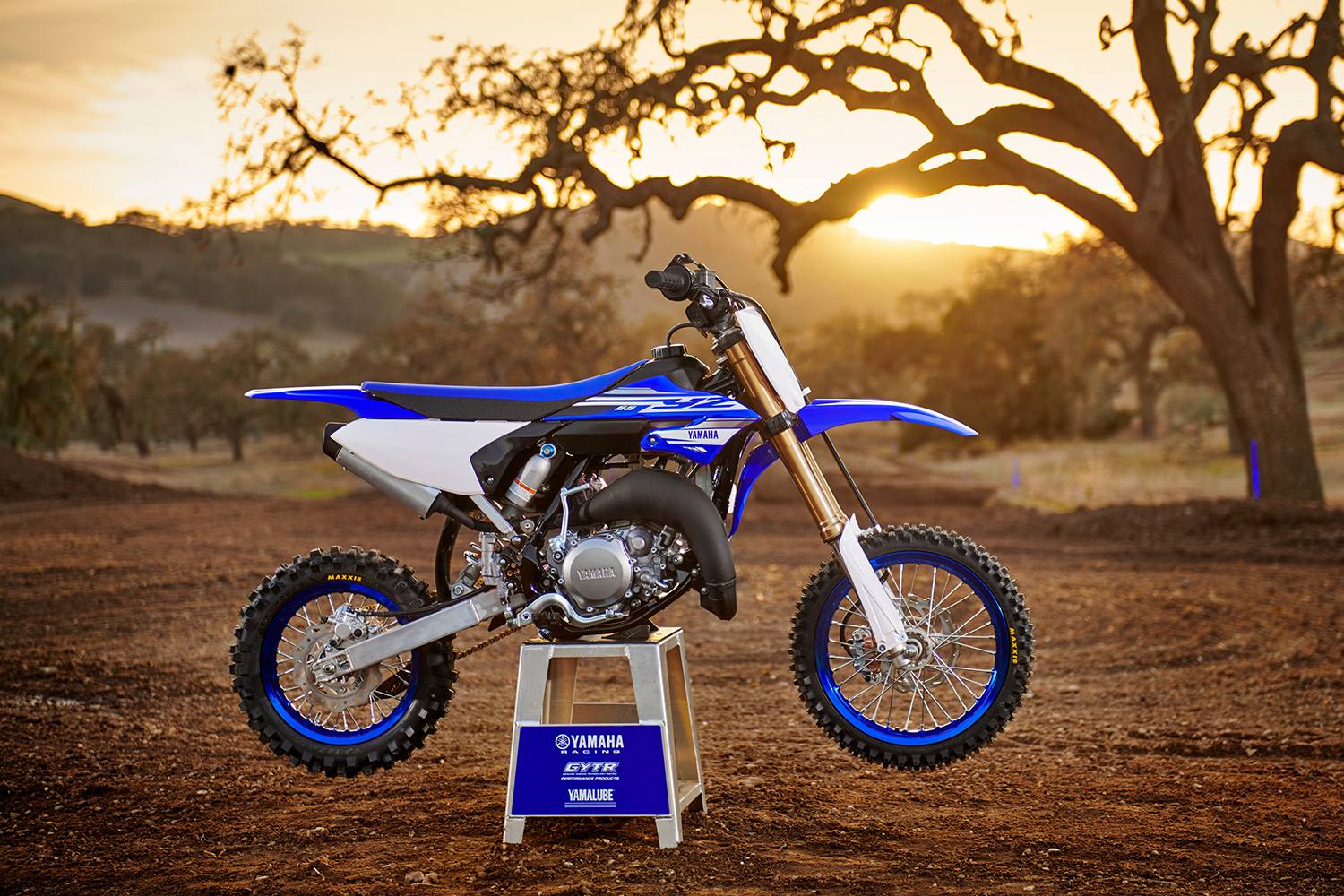 Yamaha | Crossmotor YZ65 2018